Concerts and ambient/background music

The Muse String Quartet is a chamber music ensemble, which has shared music-making since 1997, and performed in different parts of Estonia. Our music has sounded at receptions, wedding ceremonies, birthday parties etc. For venues we have had ballrooms of manor houses, green parks of castles, as well as modern office surroundings.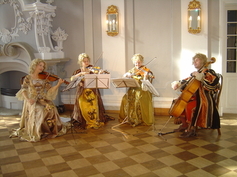 The common feature of all the important events, celebrations, and anniversaries is to create something memorable, and live music performed by professional musicians has an essential role in adding to this aspiration - bringing the sense of the occasion.